Duquesne Pharmacy Fundraiser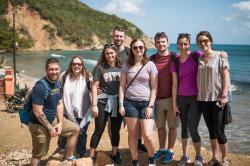 This spring, a section of Duquesne's Perspectives in Global Health elective course was offered in conjunction with a Spring Break-Away to Cap Haitien, Haiti. In partnership with Espwa, Assistant Professors Dr. Jordan Covvey and Dr. Kevin Tidgewell co-led and organized the trip, which occurred from March 2 - 9, 2018.
The Perspectives in Global Health course was established in Spring 2016 and offers fifth-year pharmacy students the opportunity to learn about issues relevant to the global health landscape: infectious disease, culture and ethics, international drug discovery, poverty, and international aid. The elective course instructors include Drs. Covvey and Tidgewell, who led the March trip, as well as Associate Professors Dr. Anthony Guarascio and Dr. Lauren O'Donnell. This year's student participants in the Spring Break-Away trip were Briana Schreckengost, Tom Handerhan, Kelly Mazzei, Tess Calcagno, Allison Kachel and Nathan Gartland.
During the Spring Break-Away trip, these student pharmacists worked with the Espwa Foundation and local initiatives in Cap Haitien to further healthcare goals and offer a valuable perspective through their prior education and training. In visiting local clinics, hospitals, and medical facilities, the team gained a broad perspective of healthcare in Haiti. The team spent significant time serving at St. Anthony's Medical Clinic, located in the Village of Nativity near the Cap-Haitien International Airport. Working side-by-side with Haitian Doctor Rodlin "RoRo" Paul, an employee of St. Anthony's, the team observed and organized the pharmacy and created a patient intake form that will help with accountability and record-keeping in the future.
Even though the team is back, Haiti remains on the hearts of each participant. We hope to continue supporting St. Anthony's Medical Clinic by raising $10,000, with $5,000 going to stock the pharmacy, and $5,000 to paying the staff for the year. Staff support includes Dr. RoRo, nurse Ms. Macena Roselaure, and janitor/security Mr. Edmond Harold.
Thanks for your interest in improving Haiti's medical care. We can only make an impact through your generous support!
ABOUT St. Anthony's Clinic
As one of Espwa's first projects in Haiti, St. Anthony's Clinic has always been a key part of any medical mission sent to Cap Haitien. Over the years, the team has begun to develop relationships with the community residents, and has continued to support the nursing and security staff at the clinic. In 2017, Espwa was approached by newly minted Doctor Rodlin Paul, known as "RoRo" to the Espwa team, looking for opportunities to impact the community and use his medical talents. With an expanded building (St. Anthony's was renovated and upgraded in 2016), RoRo now continues his medical work at the clinic and develops relationships with the community.
While the work at the clinic is largely medical relief in nature, Espwa believes the relationships and trust being built over time by RoRo and other staff will carry out a dual mission of development. Earlier medical intervention will undoubtedly increase quality of life, but a thriving community able to work and share hope with others is the ultimate goal.
Supporters
Name
Date
Amount
Comments
Duquesne University
04/20/2018
$750.00
Eileen Chenot
04/11/2018
$100.00
Keep up the good work.
Jaime Stilwell
04/04/2018
$100.00
Anonymous Friend
03/13/2018
$1,000.00
Total
$1,950.00
Report Abuse
Edit My Page